IEC 61000-4-30 Class A 인증을 하는 회사는 미국의 PSL사로 다음과 같은 프로그램을 운영하고 있습니다. 재신정보는 미국 PSL사의 한국내 공인 대리점입니다.
IEC 61000-4-30 - Power Quality Measurement Standard
Power Standards Lab is the only lab in the world that offers a complete,
in-depth testing and Certification for IEC 61000-4-30 instruments.
www.powerstandards.com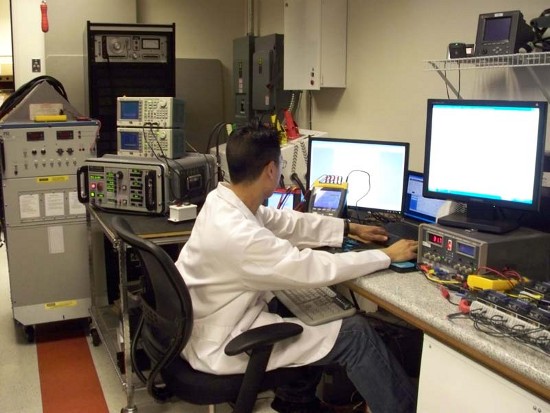 PSL provides third-party test and certification for the best power quality instruments in the world.
We approach the certification process as fellow engineers, not as policemen. Almost every instrument we've tested has required various firmware adjustments to pass, and we're glad to help your engineers understand exactly what's required.
PSL Test Reports are detailed technical documents that are intended for use by our Client's engineers. PSL Certificates are straightforward declarations by a third party, PSL, that an instrument meets certain requirements. PSL Certificates are generally distributed by our Clients to their customers.
Upon successful completion of a 61000-4-30 Compliance Report, PSL will issue a Certificate for Class A, Class S or Class B Performance. In some cases, a single Certificate may include different classes of performance for different parameters.
The Certificate applies to all instruments of the tested type or design; it is not necessary to re-test or certify each instrument.
Click here
to view a sample report and
click here
to view an IEC 61000-4-30 CLASS A certificate.
What is 61000-4-30?
Why use 61000-4-30?
Getting Started
Test dates and pricing
61000-4-30 is an IEC standard that defines the correct measuring algorithms for power quality instruments.
Parameters include:
Power frequency
Magntiude of Supply Voltage
Flicker
Supply Dips/Swells
Voltage Interruptions
Unbalance
Harmonics
Interharmonics
Mains Signaling
Under- and over-deviation
and more!
Changes between Edition 1 and Edition 2
61000-4-30 is an IEC standard that explains exactly how power quality instruments should work. PSL offers a complete test and verification service for this standard.
There are three classes of performance:

Class A
Instruments that meet Class A performance requirements of this standard will, when connected to the same signals, will produce the same results. Class A instruments must meet the highest performance and accuracy requirements in the standard.

Class S
Instruments that meet Class S performance requirements are useful for statistical surveys and contractual applications where there are no disputes. Accuracy and performance requirements for Class S are less stringent than Class A.

Class B
Instruments that meet Class B requirements are useful for qualitative surveys, troubleshooting applications and other applications where low uncertainty is not required. Class B instruments will produce useful, but not necessarily accurate, results.
More and more customers and end-users around the world require a PSL Class A certification for all their new PQ measurement instrument purchases.

This standard ensures that different PQ instruments use the same definitions, and measurement techniques, for various power quality parameters: sags/dips, swells, frequency, harmonics, flicker, etc.

Older, non-compliant instruments often use their own definitions. As a result, two non-compliant instruments may produce very different readings for the same event.
Download and complete the form, then email it to
sales@powerstandards.com
Scheduled 61000-4-30 testing and Certificate: US$25,000
Price includes 1 Udin Voltage of your choice (e.g. 230V) at 50 Hz and 60 Hz.

Want to chose your own date? US$35,000.

Please allow 6-8 weeks for completion.
During the entire test interval you must make a technical contact available by phone or e-mail.

Next scheduled 61000-4-30 testing dates: September 15, 2009; January 15, 2010; and May 15, 2010.

Questions?