재신정보에서 PQube 3 (터치 스크린방식) 를 새롭게 출시하였습니다.
제조사 : 미국 PSL사

1. 일반 기능 (General)

• Three-phase, single-phase and split-phase monitoring 69~480V L-N,
100~960V L-L, 50/60/400Hz.
• Self-configuration(*)—auto-detects single-phase, 3-phase, phase-to-
phase, wye, nominal voltage, nominal frequency...
• Four analog inputs, one digital input, one relay output
• Optional (up to two) advanced environmental probes
• Direct connect to 100~690V—no PTs required.
• Powers from 24 VAC, 24~48VDC, POE (Power over Ethernet)or 100~240
VAC with optional PM1 plug-in module.
• Optional UPS module self-rechargeable Li-Ion battery with 10 minutes of
backup power.
• Automatic data storage on internal 8GB + removable 8GB SD card
(mirrored memory)
• Full color 2 inch TFT touch screen display, 35 built-in languages(*).
• DIN-rail or optional panel mount bracket.(*) coming soon

* 주 : 본체에 POE (48볼트 DC공급방식) 지원을 하는 허브에서 TCP LAN 케이블을 항상 연결하여 사용할 경우에는 별도의 전원공급기가 없어도 됨.

2. Power Quality Monitoring Class A
• Compliant to Class A IEC 61000-4-30 Ed2 (Ed3 *)
• High-speed 256-samples-per-cycle recording.
• Power quality disturbances recorded with waveforms and RMS graphs.
• Voltage sags, swells and interruptions; over-frequency and under-
frequency events, time-triggered snapshots
• Waveshape change detection and recording
• 1 Mhz high frequency impulse detection and recording.
• Rapid Voltage changes (RVC)
• 2kHz-150kHz frequency band measurements
• Voltage THD, current TDD and current THD; voltage and current
unbalance; VARs (fundamental and Budeanu);VAR-hr accumulator; flicker
(Pinst, PST, PLT).
• Voltage and current harmonics and interharmonics—up to the 63rd, with
statistics(*).
• Daily, weekly(*), monthly trends(*). Cumulative probability, histograms(*),
and more.

3. Energy (Revenue Class 0.2s Accuracy))
• Available with PSL custom high precision current transformers to meet the
requirements of IEC 62053-22 Class 0.2S and ANSI C12.20 Class 0.2.
• Watts, VA, VARs, True Power Factor, watt-hours, VA-hours, VAR-hours.
• Carbon footprint meter (in kg), CO2 generated & avoided(*).
• Peak averages— single-cycle, 1-minute and 15-minute, and at user-
selected intervals.
• CT ratios support from 1:1 up to 1:50000; PT ratios support up to 1:10000
(6,900,000) volts.
• Daily, weekly(*), monthly trends(*); load duration curves ...
• Energy accumulators—daily, weekly, monthly.

4. Communication (Embedded Ethernet)
• Direct remote access to built-in web server— NO SOFTWARE
REQUIRED.
• Instant email notification after a power quality disturbance or end of trend
interval.
• Free email account.
• Modbus-TCP—read meters with any client, anytime.
• CQube3 Software(*) to management of a fleet of PQubes

5. Environmental Monitoring
• Optional (up to two) Advanced temperature-humidityatmospheric
pressure-acceleration and thermocouple probes.
• Optional (up to two) solar irradiance (W/m2) probe.

6. Compliance
• Safety: UL, TUV, ISA-82.02.01 (IEC 61010-1 MOD), CAN/CSA-C22.2
NO.61010-1, Japan S-mark, GS, CE.
• Immunity: IEC 61000-4-5 (6kV peak 100kHz surge), IEC61000-4-4 (4kV
peak EFT bursts), IEC 61000-4-2 Level 1 and MIL-STD-883 (electrostatic
discharges), IEC 61000-4-3 (radio frequency fields), IEC 61000-4-8
(magnetic fields).
• Emissions: EN 55022 and CISPR 22, radiated and conducted
ㅇ 기술 규격 및 가격문의:재신정보 한정규대표(031-388-7874)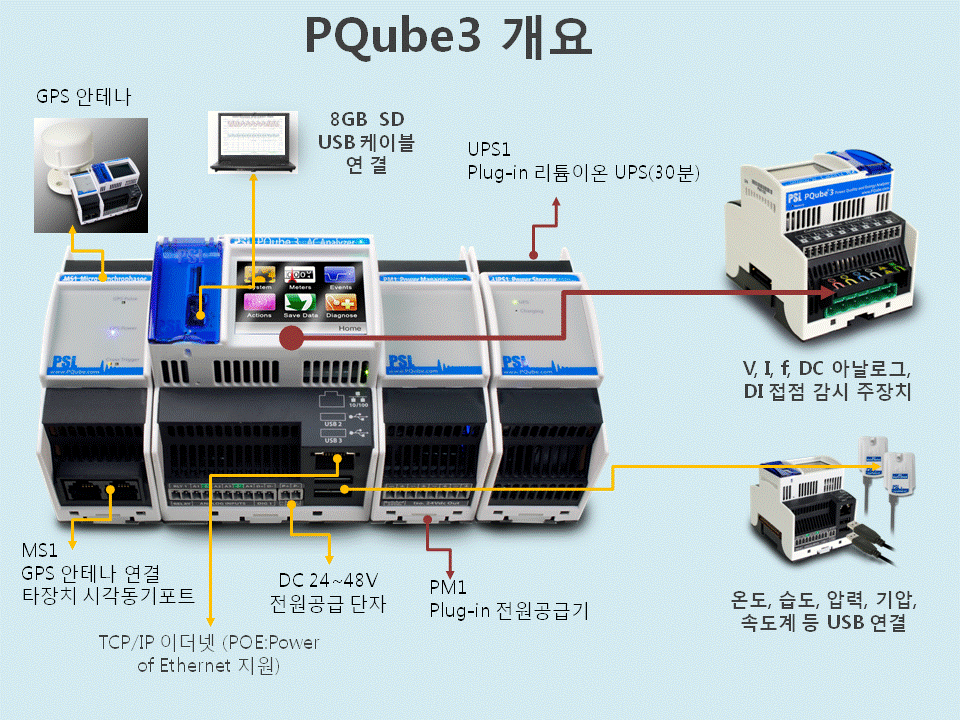 [ 위성 GPS 시각동기 모듈, MS1 + PQube 3 본체 + PM1, 전원공급기 모듈 + 리튬이온 배터리 30분 백업 UPS 모듈, UPS1 ]